Next SRP Rounds Date:
Wednesday, June 28, 2023
8:00 a.m. ET (12:00 p.m. GMT/UTC) / 7:00 a.m. CT / 6:00 a.m. MT / 5:00 a.m. PT
FIND THE START TIME IN YOUR TIME ZONE
SRP Rounds Video: May 24, 2023
>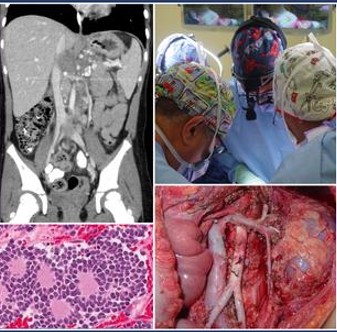 Surgery - Radiology - Pathology (SRP) Rounds with The Montreal Children's Hospital provides an animated, in-depth, interactive discussion of the management of 2 to 3 selected pediatric surgery cases that demonstrate important clinical principles. The cases are presented by trainees in a prospective manner, as they actually unfolded in the clinical environment. Multidisciplinary teams from surgery, radiology, and pathology engage to provide a comprehensive teaching exercise. The back-and-forth discussion between moderators and the treatment team provides insights into decision making and treatment practices. The result is a high-level learning experience that is shared among attendees.
Through the efforts of THP Senior Editor Sherif Emil, MD, CM, an important innovator in global pediatric surgical education, The Hendren Project is honored to livestream these discussions every month to the THP Community. The Hendren Project will enable a global virtual audience to interact with the moderators and presenters via chat, encouraging broader discussion and debate.
If you are interested in attending this innovative educational series, please register and receive notifications of upcoming live webcasts.
Can't make the date? Each of the rounds will be archived here for viewing later, along with case summaries, discussions, and major takeaways of the monthly patient cases. There is no charge to attend the monthly SRP rounds on The Hendren Project.