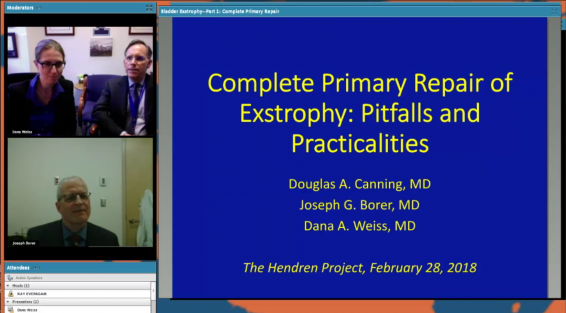 Moderators: Douglas A. Canning, M.D.; Joseph G. Borer, M.D.; Dana A. Weiss, M.D.
Organizer: Jason Van Batavia, M.D.
Douglas Canning, M.D.; Joseph Borer, M.D.; and Dana Weiss, M.D.; discussed When To Do Reimplants and How To Avoid Penile Injury in Boys. The webinar began with the presentation and group discussion of important background information regarding the issue. This was followed by patient case reviews that illustrate various treatment strategies and discussions of advantages and disadvantages to these approaches. Attendees were able to make comments, ask questions, and offer their own suggestions. Polls throughout guided attendees on important aspects to consider and incorporate into practice.
Learning Objectives
Understand the potential benefits and risks of different approaches to repairing bladder exstrophy

Learn possible mechanisms behind penile injury during complete primary repair of bladder exstrophy

Be able to describe techniques/methods to minimize this risk of penile injury 
The live webinar allowed deep interactive exchanges between participants and expert panelists as they addressed fundamentals of basic techniques and strategies to repairing bladder exstrophy. Polls made sure attendees understood the key concepts that were introduced and discussed.
Video:
Pubic Closure During a Complete Primary Repair of Bladder Exstrophy
Summary Slides:
Complete Primary Repair of Exstrophy: Pitfalls and Practicalities
Safe and Sound: Principles for Successful Complete Primary Repair in the Boy